Stockholm is a wonderful place to visit with children, especially during the Summer, but it has something to offer all year around.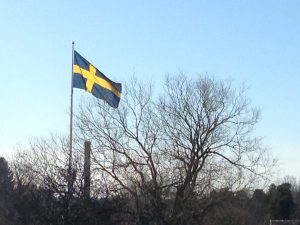 It is true what you hear, Stockholm, and the rest of Sweden, is very family friendly and most touristy activities are very geared towards families with younger children. I think this is partly to do with the invaluable attitude towards co-parenting and family. In Sweden, for the most part, family is seen as the norm and is made a priority by businesses, employers, and service industry. For example, there is an understanding that it's the responsibility of both parents to provide childcare i.e. not just the mother's responsibility. AND, did you know that most museums, science centres and national galleries in Stockholm are free to enter!
However, I digress! The point I was trying to make is that when it comes to tourist destinations, the Swedes wrap it up for kids, with a bow.
1 – Junibacken
Junibacken is the primo destination for all things Astrid Lindgren in Stockholm. There are several other theme parks, museums and tourist destinations that follow the stories of Astrid Lindgren around Sweden but Junibacken is it in Stockholm. It is on the island of Djurgården where most of Stockholm's best museums and science parks are based (my opinion only).
The 'theme park', in it's loosest sense of the word, is a giant fun house full of Astrid Lindgren's characters but you will also come across Alfie Atkins, Mama Moo. At present, there is a major exhibition currently on (Feb 2015 – Jan 2017) "Moomin at Junibacken" which delves into the world of Tove Jansson's the Moomin's based on The Book about Moomin, Mymble and Little My. Included in this is a children's theatre show called "And Then What Happened?". Unfortunately, I think all of the children's theatre is in Swedish nevertheless, the Story Train that takes you through the entire theme park is in English.
As the Story Train travels through the land of stories you will hear stories from all over Sweden and finally the train comes to a stop at Ville Villekulla, home of the strongest girl in the world, Pippi Longstocking. Here you can play, and get to know Pippi's friends and enemies and her long suffering horse 'Old Man'.
Junibacken is perfect, any time of the year, for anyone between 2-5+. It will even bring back some brilliant memories for Mum and Dad. It is also a fantastic introduction for small children to a lot of the stories, characters and legacies of Swedish children's storytelling.
2 – Skansen
Skansen is the world's first open-air museum, founded in 1891. It is half animal park, half 'living' museum. They have actually moved buildings and dwellings from all over Sweden, bringing centuries of Swedish history to the open air museum in the form of a mini town.
It is best to visit in the Summer when the weather is good and the park is at its most lush. Nevertheless, Skansen celebrates festive holidays all year around and has something for every time of the year. From Easter at Skansen, Midsommar, Allsång på Skansen, and of course Christmas at Skansen (my personal favourite) including St Lucia, dancing around the Christmas tree and the BEST christmas market in Stockholm.
Skansen is the ultimate interactive history museum and I haven't even mentioned the Zoo, yet.
There are brilliant amenities for children including stroller hire and children's food and changing areas.
3 – Tom Tit's Experiment
If your little one is into science, exploring, experiments and generally making a mess (who doesn't have a kid that likes making a mess) Tom Tit's Experiment is fantastic, every city should have a Tom Tit's! Suitable from 2+ it has just about a little of EVERYTHING. Their current exhibits … actually there are way to many to even mention but my favourites are the Selfieinspace and 3D Printing.
On Level 1 there are 56 experiments alone and most of them are based on physics and engineering but bring in all elements of science too. There are another 3 Levels, 4 in total and each has up to 50 experiments. This is an activity that needs a whole day, at least!
Tom Tit's Experiment is accessible, gender neutral, inclusive and a bit chaotic too! The point being, it introduces kids to science, physics, maths and mechanics as tools to explore and experiment in the world around them.
Amenities include restaurant, changing facilities, wheelchair access and parking. It isn't in the centre of Stockholm but very close and easy to get to by public transport and by car.
4 – Gronalund
Gronalund is THE theme park in Stockholm. It opens from mid April and is open every day until November. Again, it is situated on the island of Djurgården right next to Skansen.
It is essentially a gigantic fun fair and is owned by Parks and Resorts Scandinavia which owns the big 5 theme parks in Sweden including Bamse World and Sommarland water park. The most recent addition to Gronalund is "the Mamma Mia! the Party". Yes, the ABBA Museum is in the same park as Gronalund, too! But possible, not the best entertainment for small children!
0-3 year olds go for free as long as they are accompanied by an adult over the age of 18. There are dozens of restaurants but the kids changing situation isn't great, be prepared to queue for toilets.
5 – Lekparker (Play Parks) or Lekplats
There are several brilliant play parks in Stockholm, and not just a park with a set of rusty swings and a dodgy roundabout. These are beautifully designed, interactive, themed and well-maintained spaces for children to let their imaginations run wild.
The most famous lekpark in Stockholm is Bryggartäppan. It represents a small village from Sweden in the 1800's and includes a Smithy, wooden houses and factory. Children are free to play in and out of the houses, and interact with the contents. Hogalid's Lekpark is at its busiest during the summer when the Södermalm district council organises planned outdoor activities during the day and weekend. There is a sandpit, a wading pool, climbing frames, playhouse, swing sets and more. It is entirely fenced off and there is plenty of space to set up picnic blankets and enjoy the sun whilst watching the kids run their heads off.
Kristineberg Lekplats in Kungsholmen is one of the newest outdoor play centres in Stockholm. It was designed and built in 2013 in collaboration with Monstrum from Denmark, one of the foremost playground designers in the world. The theme is what would it be like to live amongst insects and see the world from their perspective.
The end
I hope you have found this helpful! It was written in response to someone asking me for a quick round up of what to do when they came to Stockholm for a week with their kids. There are dozens of other activities that you could do with your children. For example, a lot of the museums are now offering barnvisnings or children's tours and most of the Libraries, including the City Library, have excellent children's sections. There are children's cafes and pottery design workshops for under 10s.
Happy exploring! xx