As the end of my first winter here turned to spring, I started noticing that the bakeries would suddenly display one cake or baked good more than the others. One week it was punschruller (odd green marzipan rolls with their ends dipped in chocolate) and another it was mazarin (delicious tarts filled with almond paste and covered in icing).
What did it mean?
Cake days, of course.
Cake days were not something I had heard of before. Even in Denmark, alleged home of the Danish pastry (or wienerbrød – Vienna bread – as Danes actually call them), cake days weren't a *thing*. You ate pastries on a Friday morning at breakfast with your colleagues. (Danes might allegedly be the happiest people in the world, but they don't fika. I know…)
Back in my home country of the UK, there are no cake days either. You eat pancakes on Shrove Tuesday to mark the start of Lent and you have Christmas pudding on that holiday. But there is no special day to eat specific pastries or cakes.
I decided to adopt a "when in Rome" attitude. I mean, why turn down the offer of cake? I didn't want to be thought of as impolite. And surely this was a brilliant way to adapt to Swedish culture?
It hasn't all been good though (and I'm not just talking about the impact on my waistline). There was the one spring when I gorged myself on semla buns, eating far too many (I'm not even going to tell you how many) that it made me feel sick. I haven't been able to eat once since.
Luckily, I've had no such problems with kanelbullar (cinnamon buns) or my favourites, kardemummabullar (cardamom buns). My love for those sticky buns knows no bounds. I've even been known to be on holiday, sitting by the pool, giving tips on where to get the biggest and best in town to people I've just met (answer: Cafe Saturnus, just beyond the city centre, near Humlegården – they truly are enormous).
Not a fan of bullar? Not to worry, you can instead celebrate wienerbröds dag with Danish pastries on 22 November each year or perhaps muffins day each 27 May.
Interestingly, most of these cake days fall either in spring or in the autumn. I don't think this is a coincidence.
In spring, as soon as the sun makes an appearance and cafes start to set out their outdoor chairs and tables (uteservering), people want nothing more than to enjoy a coffee and a cake in the warming rays.
And what else can you do in the autumn but stuff your face with cake, ready for winter hibernation time?
A little history
Although these days might seem random, there is rhyme behind the reason for many of them. Våffeldagen (25 March each year) likely stems from Vår Fru Dagen. This was a religious holiday from centuries past celebrating the Virgin Mary and falling nine months before Jesus's birth day on 25 December. It is believed that the name was mispronounced and eventually became Våffeldagen, all about waffles rather than Mary.
Napoleonbakelsesdag (every 17 November) is another interesting one. Even though Sweden has a link to Napoleon (after one of his generals, Jean-Baptiste Bernadotte, was elected as successor to Sweden's childless King Charles XIII), these cakes (based on the French mille-feuille) probably have more to do with the French word for Neopolitan than the 19th century emperor.
One Swedish monarch does get his own cake day though: Gustav II Adolf. He died in Poland on 6 November 1632, in the midst of Europe's Thirty Years' War. Apparently, this tradition began in 1854 in connection with the unveiling of a statue of the king in Gothenburg.
The story behind Kanelbullens dag has much more to do with marketing than history. The Home Baking Council wanted a day to celebrate its 40th anniversary and chose 4 October simply because it didn't clash with other cake or food celebration days.
Although Sweden does have its own variant of the doughnut, called a munk, they are not quite the same. Munkar are somewhere between an American donut and a British doughnut. They are often filled with jam, as in Britain, but they are typically topped with icing sugar (more like their American cousins), rather than sugar crystals, as they are in the UK.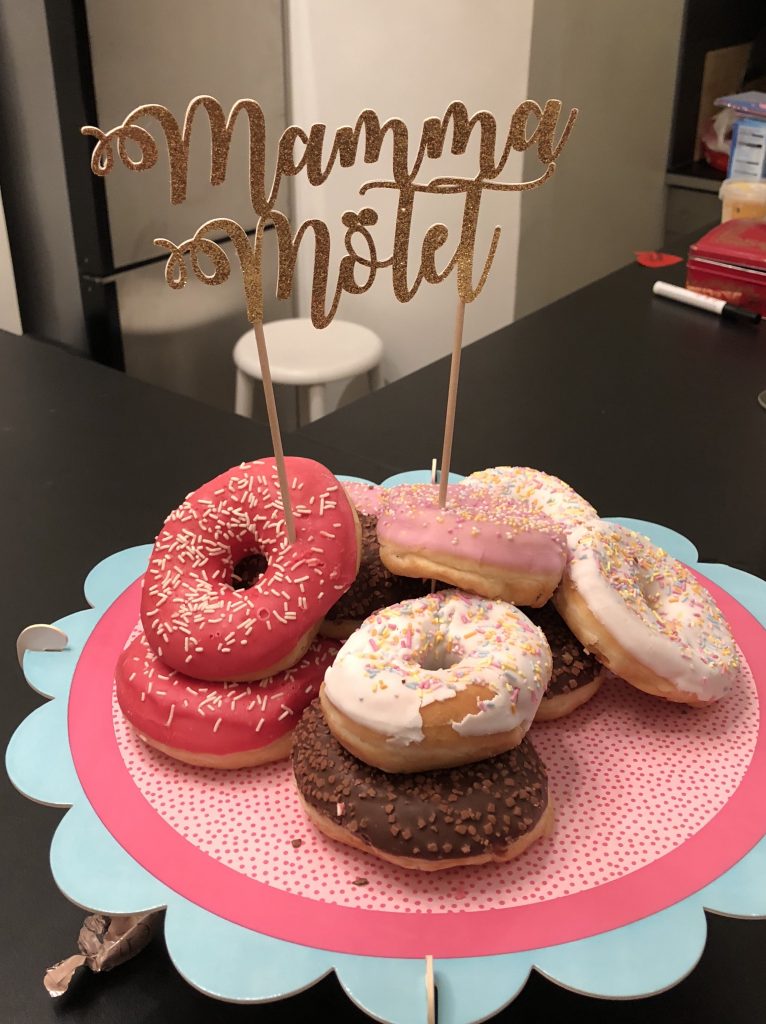 Cake days
Semmeldagen

– every Fettistisdag (Shrove Tuesday, the day before Lent) – almond paste and whipped cream filled buns, flavoured with cardamom.

Punschrullensdag

– 7 March – filled green marzipan rolls with chocolate dipped ends.

Mazarindagen

– 13 March – baked tarts filled with almond paste (there's a theme here…) and topped with white icing.

Våffeldagen

– 25 March – waffles, såklart.

Bulle med bullens dag

– 10 April – mostly celebrated in Skåne, this day sees people eating a chokladsboll inside a bread roll. (I'm not joking.)

Budapestbakelsens dag

– 1 May – a rolled cake filled with cream, egg whites, hazelnuts and fruit (usually apricots or peaches).

Hembakatdagen

– 6 May – whatever you want it to be, as long as you bake it yourself.

Chokladsbollens/kokosbollens dag

– 11 May – unbaked oatmeal and chocolate ball, usually rolled in shredded coconut.

Kardemummabullens dag

– 15 May – cardamom buns.

Muffinsdag

– 27 May – muffins, of course.

International Donut Day

– first Friday in June – doughnuts of the international kind (not Swedish munkar).

Gräddtårtens dag

– first Sunday in October – literally a cake covered in whipped cream, and often decorated with fruit (typically strawberries).

Kanelbullens dag

– 4 October – the famous Swedish cinnamon buns.

Chokladmuffins dag

– 18 October – chocolate muffins, for those who want a more specific day than 27 May.

Gustav Adolfs dag

– 6 November – Gustav Adolfsbakelse can vary some place to place across the country and from year to year, but has in common a marzipan or chocolate silhouette on the king on top.

Kladdkakans dag

– 7 November – a brownie-like soft chocolate cake.

Ostkakans dag

– 14 November – not cheesecake like most of us know it; this is a baked milk pudding, flavoured with almonds and often served with cream and fruit jam.

Napoleonbakelsesdag

– 17 November – a puff pastry, vanilla and cream cake, topped with icing flavoured with currants (similar to the French mille-feuille).

Wienerbröds dag

– 22 November – pastry, any pastry – what you most likely know as a Danish.

Pepparkakens dag

– 9 December – ginger biscuits; a festive favourite.

Kakens dag

– 18 December – biscuits or cookies.