As my mum said, "Disney couldn't have done a better job himself". The medieval capital of Gotland. It's quaint cobbled streets and rose covered cottages transport you to a fantasy, story book setting. It's no wonder that Game of Thrones producers were interested in using Visby Wall as one of its many locations in Season 7/8, 2016. Visby has other film credits to live by. Astrid Lindgren's world-famous Pippi Longstocking. The original SVT production of Astrid Lindgren's Pippi series was shot in Visby and the surrounding towns in 1968. Today, the original Villa Villekulla (Pippi's House) is located at the heart of Sommarland in Kneippbyn. Can you tell what was the highlight of our trip already?
As well as the beloved Pippi connection, Visby has countless other brilliant things for the whole family to do. In this guide, we've selected Littlebearabroad's favourites.
Kneippbyn
It's difficult not to do a family guide to Visby WITHOUT mentioning Kneippbyn. I appreciate it may not be everyone's cup of tea. If you want to guarantee 2 FULL DAYS of entertainment for the kids this is the place to do it. With two separate activity parks, Sommarland and Vattenland, you really can spend two full days and not do the same thing twice. Sommarland is a theme park/tivoli with rides, games, lekplats, trampoline parks, helicopter rides, sing-along shows and electric cars. You can even sift for gold! Vattenland does exactly as it says, it's a water park. It has slides, wave machines, play pools, baby pools, racer slides, luge pools, diving pools and half-pipe slides.
But, the combined parks crowning glory is the original house used as Villa Villekulla (Pippi Longstocking's house) in the original SVT series of Pippi Långstrump. It's situated at the heart of both parks and there is a daily Pippi show featuring Kling and Klang, Pippi herself, Annika and Tommy, the nasty robbers and Pippi's Pappa. All your favourite Pippi songs are reprised and you can even get a hug from Pippi herself at the end. It's lovely.
We initially intended to go for just 1 day (it's pricey = 1,000sek for two adults and a child) but upgraded to a two day pass for just an extra 400sek. Well worth the upgrade as there was no way we would have been able to do both parks, and the show, in one day.
You can also stay at Kneippbyn. There are three different types of accommodation, their hotel, camping grounds for tents, mobile homes, and their cabins.
Almedalen Lekplats
You can't throw a stick far enough in Sweden without it dropping on some sort of lekpark or lekplats, and Visby is no different. But, our favourite lekpark by far is Almedalen Lekpark. Known more for it's political ties and annual political conference, Almedalen park is also home to Visby's most well-equipped lekplats. It has pretty incredible views of the walled city and the ocean, too.
The Pippi Tour
Having arrived inbetween two Pippi tours during our time in Visby, we missed this activity. Dates for this brilliant tour of all the spots used as locations in the Pippi series and films take place throughout July and August, once a week. The tour is best suited for 4 – 9 year olds and lasts for one hour. The tour is advertised as a tour in Pippi's foot steps. Definitely recommended for the die-hard Pippi fans. To book, go to the Gotland Tourist Information Office.
Leva Kungsladorna
A little bit outside of Visby and a bit more off the beaten track is Leva, an outdoor community space with sustainable restaurant, bar and konstverk. Leva works hard to maintain a philosophy of sustainable, locally sourced and organically produced products from bread to house-hold items and artwork. Throughout the week they host international musicians, cinema evenings and grills. On Tues, Weds and Thurs evenings a lamb grill is served with a helping of children's cinema. Which means, food for the family and 90 minutes of kid-free drinks for the parents.
Built on the grounds of the Leva community is an adventure forest, complete with high ropes, tarzan and tyre swings. Another great way to occupy the kids during lunch or dinner.
Leva Kungsladorna is beautifully stylish. Outdoor cabanas, glasshouses sprinkled in twinkle lights and artwork hidden in the most unlikely places. So for those looking to lead the boho chic lifestyle for a bit on holiday, this is your spot.
Recommended by all of the great guides as THE place for families in Gotland…hmm well, yes, and no. It's a great little museum but if you missed it you wouldn't be missing out on much. It does have a brilliant indoor play room which is ship and sea themed. If you get cut short on a rainy day, it's perfect. But, there are plenty of other things to be getting on with.
Tofta Beach
There are dozens of tiny beaches around Visby but the most accessible, kid-friendly and clean is Tofta Beach. Twenty kilometres south of Visby, Tofta Beach Club sits right on the edge of a soft, fine, yellow sand beach with clear blue waters. The beach faces towards the main land on the west coast of the island. Perfect for day's 'utflykt' from Visby.
Members of the public do have access to Tofta Beach Club. You can hire loungers, cabanas and gazebos beside their private pool and poolside bar. During the summer there are stalls and a small market selling seaside wares and beach apparel.
We loved Tofta Beach because it was just what you would expect from a beach. We could have been sitting on a beach in Mauritius, never mind Gotland. But, be careful of the jellyfish – they're harmless but they sometimes congregate in the shallow waters.
Good Food
Gotland is dripping with good food, with a heavy lean towards sustainability and local produce. Whether it's buying your groceries from the local farm shop or finding a hot spot for date night. Our favs include the following:
Själsö Bageri a beautiful bakery and bistro just north of Visby in Sjäslö. Specialising in sourdough bread and good Swedish pastries. Själsö Bageri also opens their food truck selling baked goods on a daily basis in Visby city centre.
In the north of the island in Fårösung, Prima Gård matsal produces fine, locally sourced food from July through August only. Prima Gård is Gotlandsk organic design at it's best. Their boutique offers beautifully hand-crafted ceramics and fine jewellery; heirloom pieces for the home and for you.
A little further south from Fårösund, on the west coast of Gotland, you'll come to Stenkyrka Stenstuga. Here you'll find the best creperie on the island. Ett Litet Creperie is a family run establishment. Owned and operated by Lotta and Jocke. You can eat, fika, play boule and enjoy the tranquility of the countryside near their beautiful, rustic eatery.
Our "adults only" sumptious favourite is Lilla Bjers. A cab ride from the centre of Visby, in the heart of the countryside, Lilla Bjers is a gastronomical wonder. Their huge greenhouse and gårds restaurant sits majestically in the surrounding 15 acres of farmland. Inside the glasshouse restaurant, fruit trees and large vines drip from the ceiling, untreated linens cover the tables and the wine glasses are beautifully big. Their menu is created out of the treasures they grow and, therefore, predominantly vegetarian. However, we tasted the pork with fennel and svartkål and it was "melt in your mouth" good.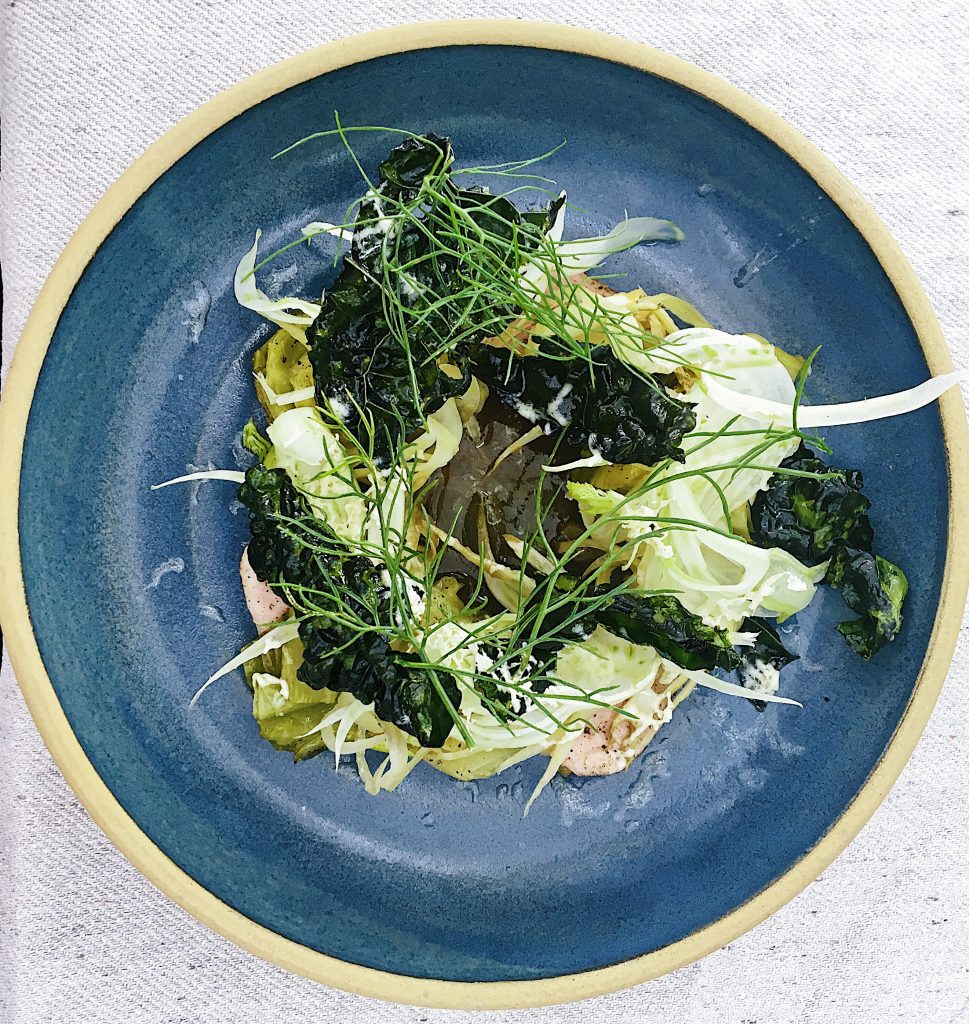 Pork, fennel and svartkål salad, Lilla Bjers
Of course, Lilla Bjers is utterly kid-friendly, they have chickens and small animals you can visit as well as an outdoor area to run around. But, if you really want to soak up the experience, do it as a date night.
Where to Stay
It's easy to find a place to stay in Visby, just Google it. But, why go mainstream when you can go up-stream. Hotel Stelor, situated near Tofta, is a farmstead nestled in the Gotlandska countryside. Traditional and cosy, the seven bedroomed hotel also hosts parties, country weddings and harvest dinners in their renovated 18th Century barn. The bedrooms are decorated with wild flowers and the kitchen garden provides the perfect accompaniment to the local produce used by the hotel's kitchen. It's delightful.
If you want something a little more adventurous and immersed in sea and sand, look no further than Surflogiet. Luxury camping and VW vans are a la mode at Surflogiet. They offer the full surfer experience. SUP yoga and body boarding by day, camp fires and beautiful sunsets by night. The glamping ground sits nestled in the forest on the edge of the beach and looks over the Östersjön towards the mainland. The resort offers daily activities, bar and cafe with home made food and locally sourced beer and wine.
Off a tiny street in Visby, through an unremarkable door is one of the most eclectic hotels I have ever seen. Since 2015 Hotel Revolver has been wowing it's inhabitants with it's opulent and unique themes. Mixing vintage and modern, antique and even more antiquated, Hotel Revolver is a refreshing juxtaposition to the neutral, slow living sea-grass style so often found around Gotland. Not absolutely kid-friendly, but manageable and worth it for the experience.
Dagens Utflykt på Gotland
Out of the city and around the island. It takes 1 day to travel the whole circumference of the island, non-stop. But, if you want to explore in more detail there are really two places to go. The north, or the south. A trip down south, almost to the furthest point of the island, called Sudret (The South) and you'll get to a place called Sundre, Bergsvik. It's home to Körbärsgården, an out of this world art, restaurant and workshop complex.
It's white-washed, farm houses and olive trees immediately transport you to Corsica. For a small fee you can enter the gallery which plays host to diverse and beautiful guest art works, alongside the galleries own pieces. The artwork spills out over the trädgård and around the kitchen garden. The air is silent and peaceful as you look out across the sprawling farmland surrounding the art complex. Again, Körsbärsgården's kitchen is heavily influenced by locally sourced produce.
It's menu is succinct but wholesome and they sell terrific Gotlandsk ice cream. The gift shop is beautifully curated, including their own olive oil, skin care products and leather products. If you time the trip right, you can enrol the kids into the barnkonstverkstaden for the morning or afternoon. An entire room dedicated to painting with hands, feet, sticks and stones, and anything else that goes to canvas. It takes around an hour and 40 minutes by car but, it's a lovely road trip with plenty of places along the way to stop off for a dip in the ocean.
For more details about the destinations we've mentioned click on the links in the article. To get to Gotland, we took Destination Gotland ferry from Oskarshamn, in Småland to Visby in July. Ferries also depart from Nynäshamn, south of Stockholm and Västervik, in Småland. Flights are available from most Swedish airports.