I first attended a Designmarknad Sthlm market in 2015 when my daughter was barely a few months old. It was Autumn and we were in need of some "höstmys". It took place in Hornstull and, having just moved from London where "markets" were a big thing, it was refreshing to find something familiar to do in Stockholm. That Christmas we attended the Designmarknad Sthlm Julmarknad at Färgfabriken. The markets focused on small batch, high design concept products with unique quality. We were delighted to have been introduced to new Swedish design. Since then, it's become a family staple, something that we look forward to doing every season and that is why I wanted to get to know the people behind the concept and brand.



As much as this may come as a surprise to some who live outside Sweden, or even Stockholm, there aren't as many creative outlets for meeting new or up and coming designers as you would expect. Of course, there are trade shows and mässan but even those are becoming generic and main stream with very few "grass roots" designers attending (mostly, because of the cost). So, discovering Designmarknad Sthlm was light relief from the quite conventional design concept and products normally found in Swedish "design houses".
When we spoke, it became obvious that Elin, the marketeer in chief, felt the same. A product designer by trade, Elin had been in search for the perfect platform to showcase her concepts. After attending both The Furniture Faire and Formex her products needed another platform. Whilst trying to balance producing and selling Elin was introduced to a number of other designers all experiencing the same problem – somewhere to sell their stuff. Without a big name brand or loyal following Elin and other designers were finding it impossible to encourage boutiques and stores to buy their design concepts. Her colleague Ulrika, a fashion designer (Ingeborgsen Studio) and project leader of Designmarknad Sthlm, had experienced the same issue coming from the London market scene, back to Stockholm. As Elin said, "it all started with me, and needing to find somewhere to sell my designs."
After attending successful markets in Gothenburg as a seller, Elin knew there was a niche for something similar in Stockholm. And, in 2010, Designmarknad Sthlm was established and their first market took place. Now, thousands of visitors from all over the world attend their amazing venue markets. National and international designers and artists clamour to get a space. Demand from both sellers and customers has been constant and this year they added further market dates to their seasons including a market dedicated to Children's products, Food and Harvest and Late Night markets.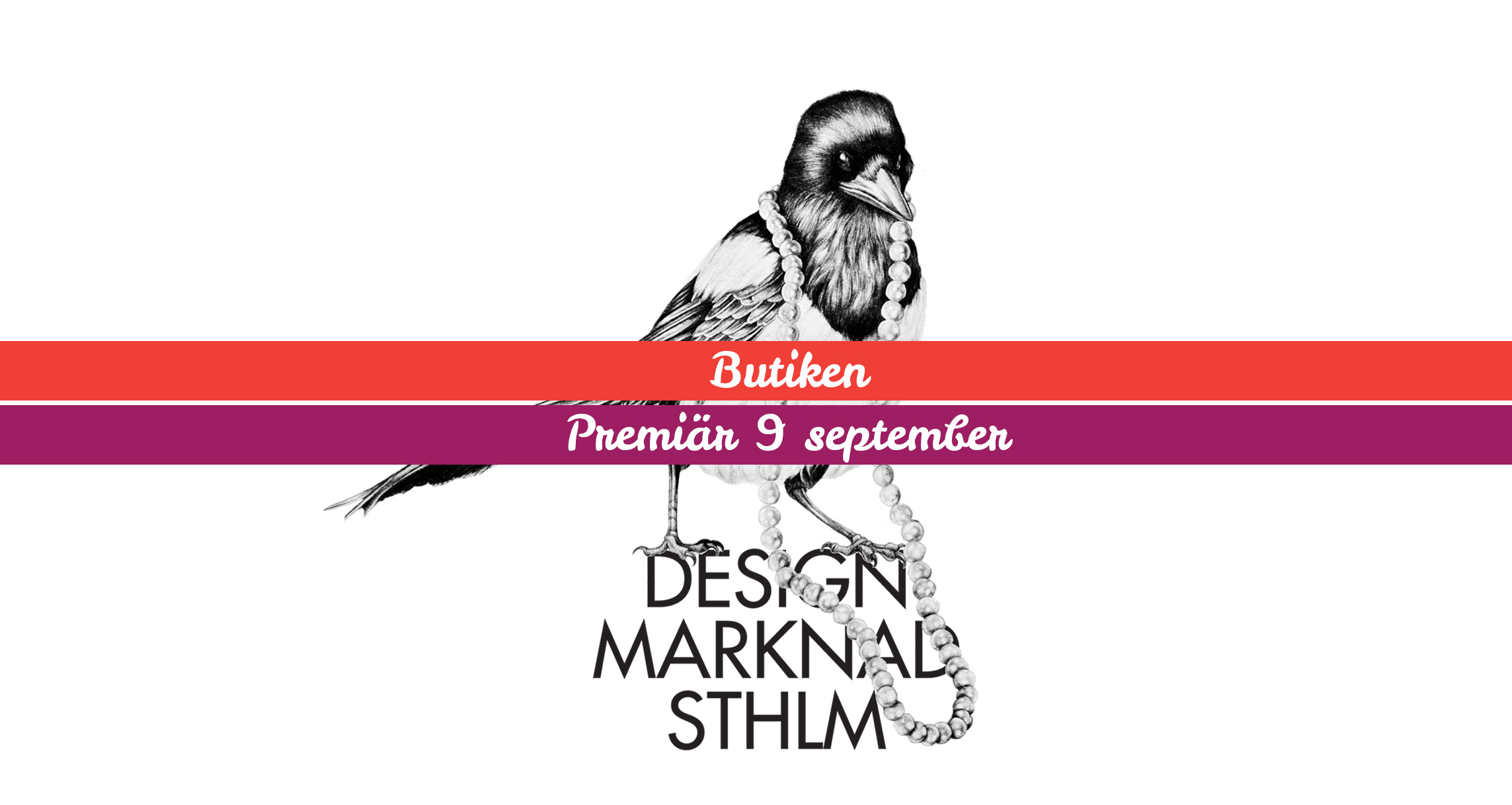 But, now starts a new chapter in the Designmarknad Sthlm era. For the next six months Elin and Ulrika will be showcasing hand picked designers and products at a pop-up store in Götagatan. The Designmarknad Sthlm Butiken is set to become a 'must-do' shopping experience when travelling to Stockholm. The enviable shop location in trendy Södermalm and line-up of sought after designers on display make the concept store unmissable. The store will be in place for 6 months with new designers being added and the store line refreshed. The focus will be on accessories, jewellery, clothing and small pieces of home-ware. The ultimate lifestyle edit. But, in truth, the concept behind the concept is to create more opportunities for young designers to showcase their products. It's about seeing past the mainstream and high street to unique and fresh designs.
Designmarknad Sthlm Butiken is located on Götagatan 9, Södermalm and opens to the public on the 9th September. It is 20sqm of utterly new, small batch, design concepts sold on commission. Their next market, Mat & Skörd Fest/ Farmer's Market takes place on the 16th & 17th September at Färgfabriken. You can read more about it on the Designmarknad Sthlm website or follow them on instagram @designmarknadsthlm.
I'd also like to thanks Elin and Ulrika for taking the time out to speak with LBA at a REALLY busy time for them.
SaveSaveSaveSave
SaveSave
SaveSave
SaveSave
SaveSaveSaveSaveSaveSave
SaveSave
SaveSave