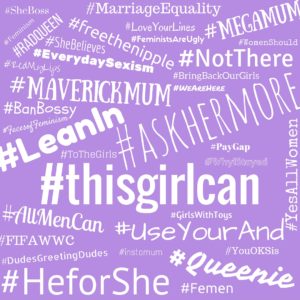 Before writing this post, the plan was to make it a short, snappy little number about International Women's Day and the purpose of it's creation. Bob's your gay Uncle, Fanny's your transgender Aunt. But, in researching the hashtags ('cause I'm a bit hashtag obsessed) I was blown away by the number of seriously important social media campaigns that had started with female positive and negative hashtags!! Women have been kicking some serious social media ass!! Have we found our outlet? An online collective, a place where regardless of trolls, misogyny and archaic attitudes we can finally connect with sisters and brothers across the world in a like-minded forum? Whether its #maverickmums, #SheBoss or #RadQueens we're all in it together, fumbling to find our footing, handholding and throwing an arm around each other's shoulders. And it needs to continue!!
Without these transient, boundary crossing social media campaigns I wouldn't have learnt (to my horror!!) that, according to the World Economic Forum, it will take another 117 years until gender parity is achieved. That's the year 2095!! My daughter's talents or skills will still be seen as less valuable, less worthy, less deserving than her male counterpart's when she turns my age.

In an attempt to create some kind of panacea, International Women's Day was established to celebrate women's contributions in the world and break through the gender imbalance that slows down the progress of women in business, the political arena and society. It's objective is to prioritise a positive message about female contribution and encourage collaboration between men and women in that message. From HUGE CORPORATIONS to single individuals, it takes everyone to achieve this objective.
Events will be taking place all over the world in celebration of what has been achieved and what is yet to be achieved. Business, organisations and individuals (YOU) are also being encouraged to make a #pledgeforparity. Shout about it from the roof tops!! Make it known…what will you do?