***Edit 5th December 2017***
It's been brought to our attention that Jordenson Pram Hire is no longer in operation and there fore we have removed the link from the article.
***Edit 5th December 2017***
The hell of travelling or moving with babies, toddlers and other small persons just got a little bit simpler. There are now companies hiring out strollers, prams and other baby gear to parents arriving in Sweden. Whether you're here for a long weekend or for a long-haul, you can pretty much hire any sort of baby gear you need.
I remember travelling back to the UK for the first time with S and it was like Paddy's Market. M and I had one small suitcase between us and S had three large duffel bags. And, security!!!!! Nightmare. BUT, now with friends or family members coming over to Sweden. Or, if you're moving to Sweden for the first time, or scouting locations to move to in Sweden, you don't have to bring all the guff with you.
Jordenson Pram Hire
Jordenson Pram Hire is a relatively new company, founded by Eleanor Jordan and the concept is brilliant. It is based in Småland and can easily delivery hired equipment throughout Sweden. It hires out prams, strollers and other buggies, but it also hires entire kits for travelling babies! And I mean, EVERYTHING, right down to the baby bath and the bouncer. You can even hire travel cots, wooden cots, bedding and toy boxes!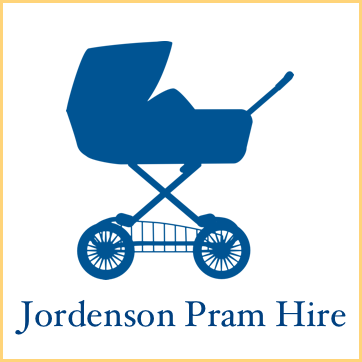 This concept is designed for people visiting Sweden or for international parents newly settled in Sweden who are still finding their feet and don't want the hassle of worrying about bringing baby stuff. I've seen the equipment and it is all top notch. You can see images of the gear on their website, too.
There are two different ways to hire the equipment, either piece by piece or in a long term package. The long term packages are for either 4-6 weeks, or 6-8 weeks and start from 3500sek. And, you can design your own package, picking and choosing what equipment you are likely to need.
As I said, they can delivery pretty much anywhere in Sweden for a minimal cost. Airport pick ups and drop offs are possible, too!
Check out Jordenson Pram Hire! It's in English and very easy to navigate. You never know when it might come in handy? Friend's coming to stay and need an extra high-chair or travel cot? Travelling down south and don't want the hassle of transporting your buggy?
Hyra Barnvagn
This company is based in Stockholm and specialises in hiring out strollers, buggies and prams, only. The have an extraordinary collection of different prams for different ages and sizes. Plus, all the accessories you would want to kit out your very own travel wagon, including ergonomic baby carriers and changing bags.
Prices start from 100sek a day / 500 sek for a whole week for the most basic foldable stroller up to 450sek for a double buggy.
The other great feature is that they deliver right to your front door, or hotel lobby. So there is no need to rush around, panicking about how to find them or where to go. BONUS! If you would like more details or information, go to Hyra Barnvagn's website.
SaveSave