No matter how far away from home you are, one thing that can make Christmas feel just a little bit familiar is a Christmas tree. A tradition for the whole family.
In Scandinavia, the Christmas tree was traditionally an outdoor tree called a "julruskor". It wasn't until the turn of the 20th Century that Swedish Christmas trees or "julgran" became indoor AND decorated in the way that we know it now.
In Sweden, the Christmas tree tradition has been revolutionised again, thanks to the internet and a 30 year old family business from Småland. Started by Bo-Egon, Smålandsgran is the family run Christmas tree company that will delivery straight to your door.
"I was 20 years old the first time I started selling Christmas trees in Stockholm. The year was 1974. Every year since I have sold Christmas trees and what I don't know about Christmas trees isn't worth knowing. Now, I'm in my 60's and have sold Christmas trees for over 40 years. My children have all helped sell them and my son Emil and my daughter Anna are now taking over the business. Emil was 13 the first time he sold Christmas trees in Stockholm. Anna had already sold Christmas trees as a 12-year-old and hit all the sales records. Anna has become a well known Christmas tree expert thanks to appearances on TV and in the national press. She's also written "Granboken", a guide to everything you need to know about the Christmas tree. Smålandsgran is a real family company and the three of us manage this together with several employees.

In Småland, we have our own KRAV-certified crops and lots of effort and love are laid down on the spruce fields. No pesticides or fuel-driven machines are used. From when the sapling is planted it takes almost 10 years. We always want to deliver a so-called "Kalle Anka-spruce", regardless of variety. And, unlike many other growers, we also cut the red pines. Our sheep are our weeders and graze between the plants, keeping our crops in order."
Smålandsgran's online store has everything you could possibly want for the perfect Christmas tree, including lights, stands, decorations and whole Christmas packages. You can even request to have the Christmas tree picked up after Christmas and taken to the nearest energy plant and burnt for local fuel. Keeping Christmas trees from being dumped and cluttering up the streets. All of this can be organised and purchased from the convenience of your own home.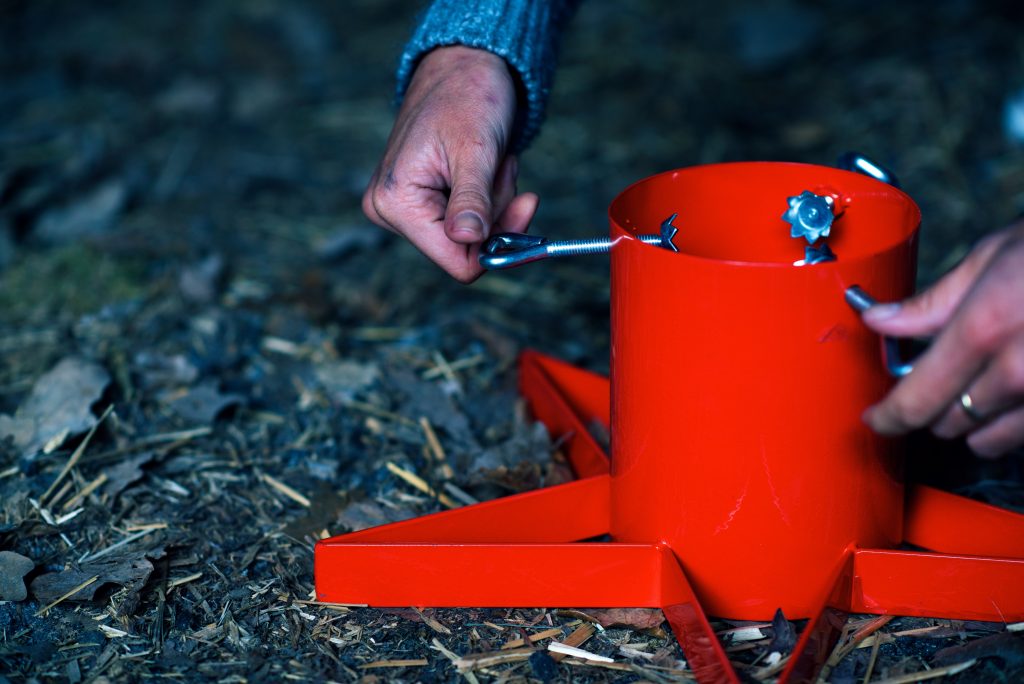 But, if you love the idea of picking out your own Christmas tree, you still can thanks to Smålandsgran Granbutiken at MOOD Gallerian, Stockholm. From the 22th of November – 23rd of December, the Granbutiken will be open for business. You can pick your own Christmas tree and get it home delivered the next day.
We are delighted to announce that, in cooperation with Smålandsgran, all Littlebearabroad.com readers will receive 100sek off their ONLINE OR INSTORE purchase of a Smålandsgran Christmas tree. Click on the voucher below and head straight to their website. Fill in the code at the check out and get your 100sek off your entire order.
Share this offer with friends and family in Stockholm by clicking on the "Share" button below the article. It's the easiest way to tell people about Littlebearabroad's offers and events in Stockholm for kids.

You can follow Smålandsgran via their Instagram feed and via their Facebook page for more updates and information about delivery and stock.
SaveSave
SaveSave
SaveSave
SaveSave
SaveSave
SaveSave
SaveSave
SaveSave
SaveSave
SaveSave