I am by no means a baking fiend…let's just clear that up, right now.
I can bake two things, chocolate cake and cinnamon buns. Perhaps it's my absolute devotion to these two baked wonders that has ensured my skills but I won't be entering Hela Sverige Bakar anytime soon.
I've stuck with this recipe for a few years now and its always produced ace results! I think it is the fresh yeast that makes the difference. Fortunately, now living in Sweden, it's super easy to get your hands on some fresh yeast. Any good supermarket will stock it in the chilled cabinets next to the butter/marge and it is called "jäst".
This recipe makes a whopping 36 buns but they freeze brilliantly.
Ingredients
50g fresh yeast
500ml whole milk, luke warm
150g very soft butter (melted also fine)
85g caster sugar
1000 g plain plain white flour
1⁄2 tsp salt
2 tsp ground cardamom
1/2 egg
Filling
150g butter (soft, spreadable)
4-5tsp ground cinnamon
120g sugar
1/2 egg for brushing
100g of pearl sugar for decoration (or finely chopped nuts)
Step 1
Heat the milk until 39° and add the fresh yeast. Stir until the yeast has dissolved.
Step 2
Add the butter, sugar, salt, cardamom, egg and 800g of the flour to make the dough combine. Add a little of the flour at a time at the time, keeping the mixer on continuously (using the dough hook). Keep the rest of the flour back for kneading. Mix the dough until it almost stops sticking and has a shiny surface – about 6-7 minutes with a mixer, longer by hand (add more flour if you need to).
Step 3
Leave the dough to rise for about 30-40 minutes. After this you might need to add a little more of the flour that you left over from the mix. Once you have finished kneading the dough should not be sticky. Cut in half and place to the side.
Step 4
The filling – in a seperate bowl mix the butter, the sugar and the cinnamon until deliciously soft and glistening. Pre-heat the oven to 220°
Step 5
Taking one of the 2 dough balls you cut earlier, roll it into an approximate
rectangle of 45 cm x 35cm. Spread a generous amount of the butter, sugar, cinnamon mix over the top of the dough rectangle and roll lengthways until you have a long, tight thin roll. Repeat with dough ball 2.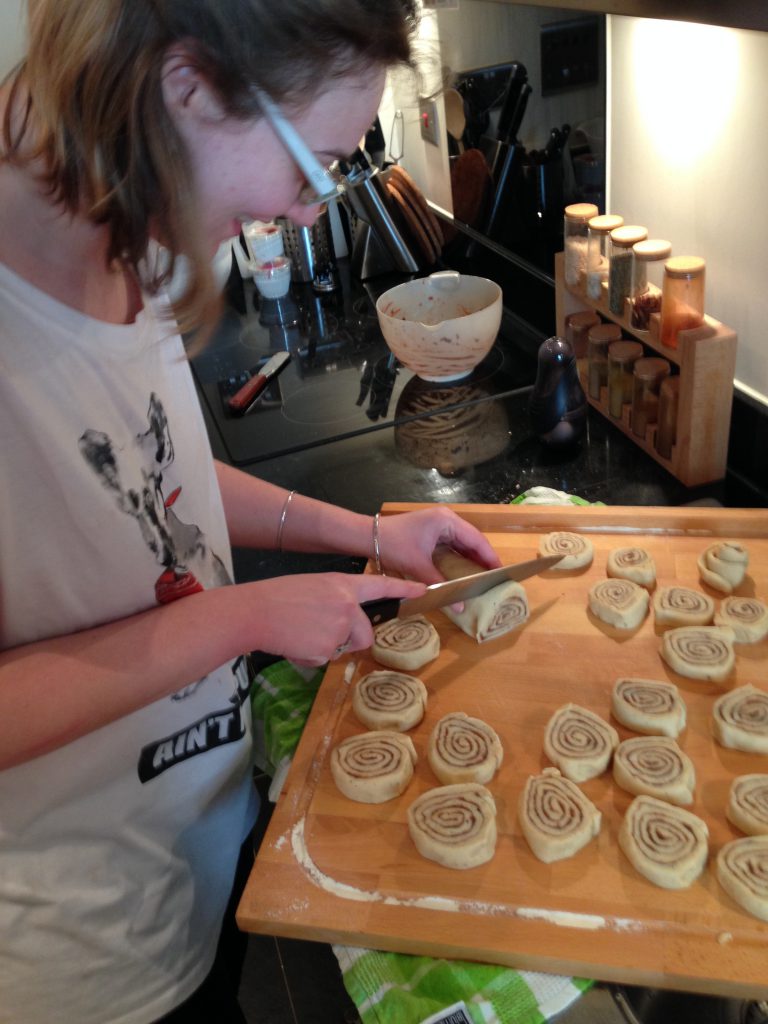 Step 6
Leave both dough rolls to rise for a futher 20 mins. After this, slice the lengths into approx 18 pieces and place each "bun" on a well lined baking tray with plenty of room for "spread". Brush the uncooked buns with the half egg to ensure they don't burn and form a nice glaze. Sprinkle each egg with the pearl sugar for decoration.
Step 7
Place the buns in the oven (teehee) at 220° and bake for approx 8-10 mins. Keep an eye on them as they can burn quickly. Once done, pop them under a clean, damp tea towel to stop them from drying out as they cool.
Boom! Job done.
Now, all you have to do is find five minutes peace for a bun and a cuppa.
SaveSave
SaveSave
SaveSave